It is easy to mistake Pinterest as being just another social media platform. In fact, many marketers fall victim to taking the same tactical approach as they would with Facebook, Instagram, and YouTube.
Neglecting to understand the differences will limit your ability to leverage a platform that not only drives social engagement but also retains the highest buyer intent across all social media channels.
In this article, I will show you how Pinterest is different from other social media platforms and how to get started using Pinterest for your business.
What is Pinterest?
Pinterest is a social media platform that lets users discover and save information in the form of images, graphics, GIFs, and videos. Images and videos are the center point of this social platform and much like Instagram, Pinterest is highly visual.  
The users are known as "pinners" and the posts are referenced as "pins".
Pinterest users can upload, save, sort, and manage these pins either by manually uploading themselves or simply searching and saving pins from other people.
Groups of pins are known as boards. Users are able to create boards to identify different groups of pins. Different inspirations, ideas, and content can be organized and stored in boards for future accessibility. This is where they buyer-intent comes into play. The typical pinner, pins items that they are interested in having or doing.
This allows unique marketing opportunity for businesses and organizations having strong visual aspects to play with, such as online stores, retailers, artists and creators.
A recent survey indicated that more than half of Pinterest users are there to find visual information about new products.
Unlike other social media networks, Pinterest is much more than just a social sharing spot; it is also one of the largest search engines on the web.
This shows that Pinterest can be one of the most effective tools for driving website traffic and generating leads that otherwise may be very hard to get.
Why use Pinterest?
Over the years, Pinterest has evolved from the source of visual inspiration for home decoration or recipe ideas to take place of a reliable visual search engine.
Today, Pinterest is considered to be the most reliable go-to place for searching and finding almost any sort of photos and graphics.
Hootsuite reports that 250 million people use Pinterest every month.
And according to eMarketer, Pinterest added more American users than Facebook and Twitter combined between 2017 and 2018.
This means Pinterest provides a unique marketing and business promotion opportunity, which remains largely ignored by many marketers today.
Is Pinterest Good for Business?
Yes, Pinterest is good for business. For starters, social posts within Pinterest are far more shareable than a post on any other social media platform. In fact, they're 100x more shareable than the average tweet, and on average, pins generate more website visits than any other social media platform.
Add to the fact that Pinterest feeds are not based on chronological order but rather based on a user's interests and search recommendations. This allows your Pinterest posts to continually gain traction as long as they are relevant to other user's interest and search history. Simply put, your Pinterest posts have a longer shelf life.
Pinterest for Business
If you are looking to use Pinterest for your business, I highly recommend setting up a Pinterest Business account.
Visit Pinterest Business Website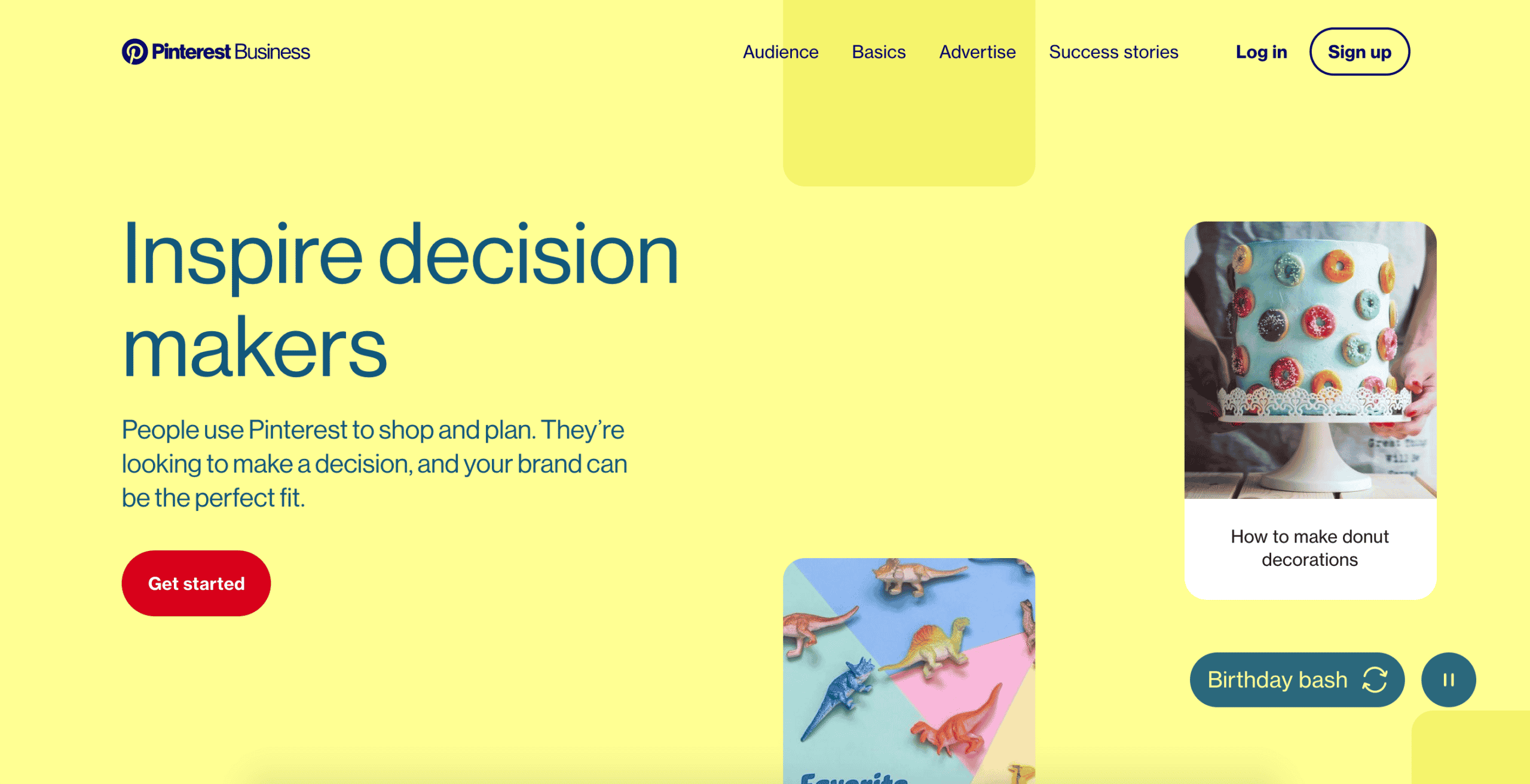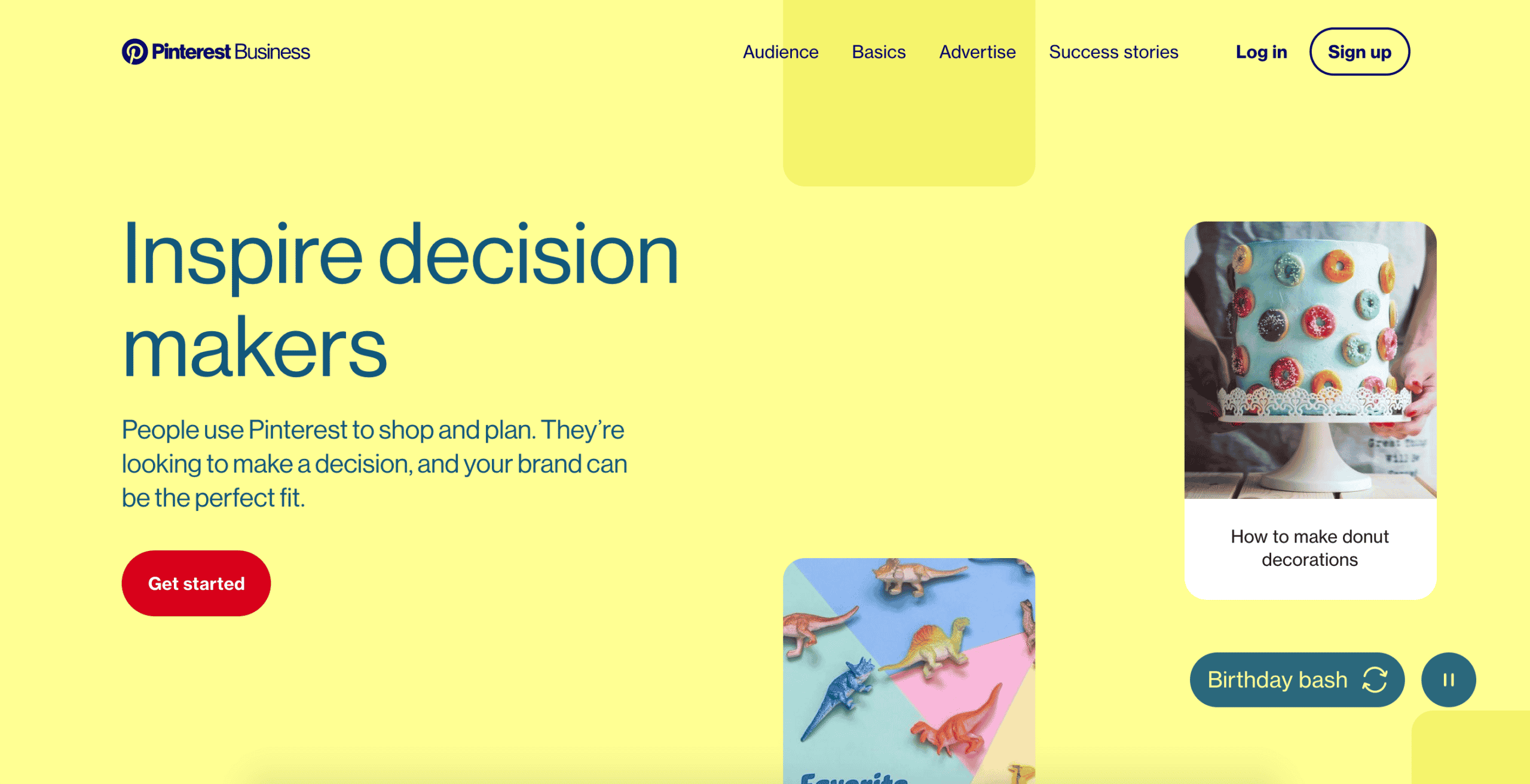 Is a Pinterest Business Account Free?
Yes, a Pinterest Business account is free to sign up for. You can easily sign up for a new account by visiting the Pinterest Business website, or if you have an existing personal account, you can upgrade to a business account in order to access all the business features.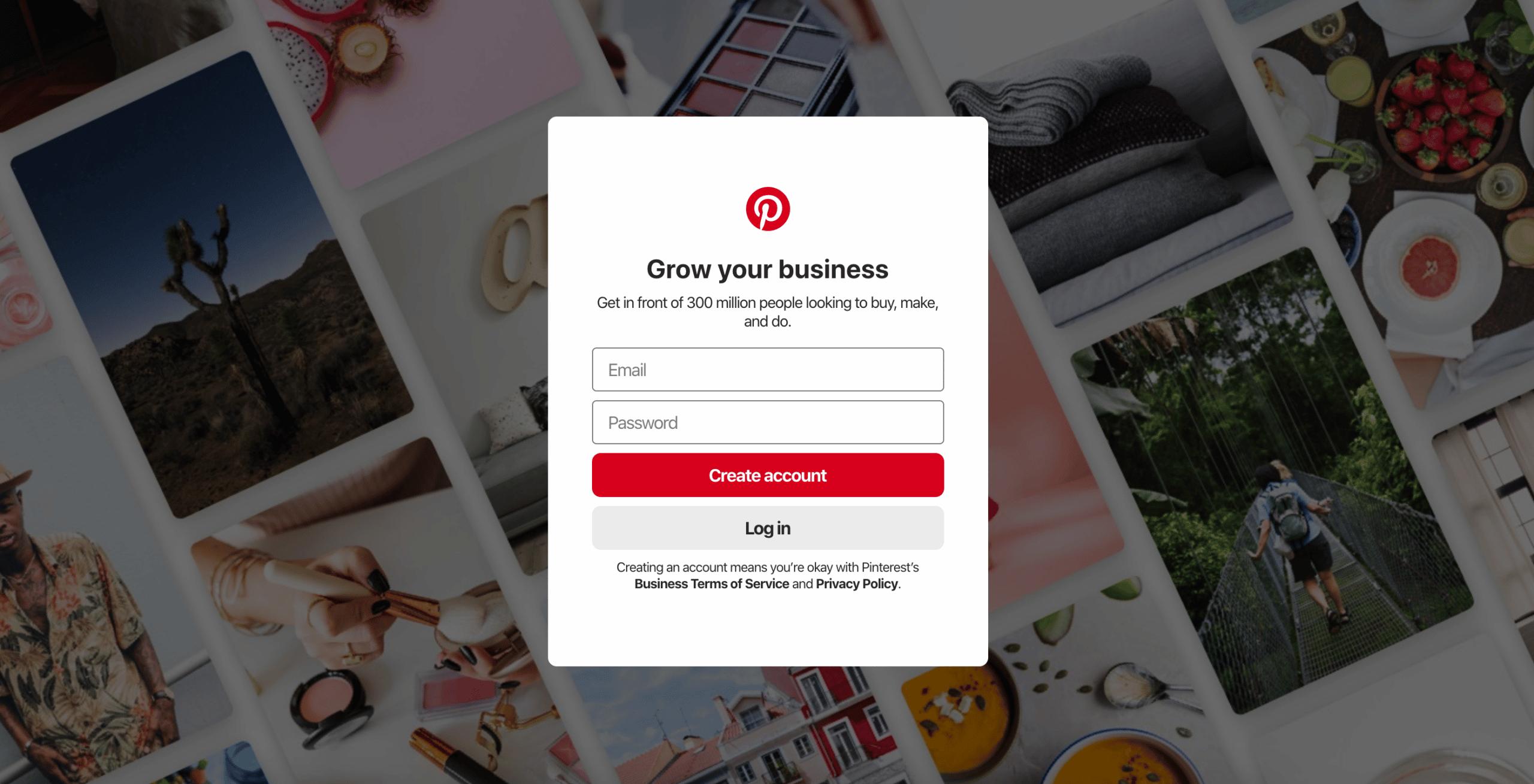 What is the Difference Between Pinterest and Pinterest for Business?
The difference between a personal Pinterest account and a Pinterest Business account is that you are able to setup a special Business profile which will give you access to a wealth of analytics and an arsenal of tools, such as rich pins. In addition, you get more control over your branding and content attribution.
Now that we have established a strong case in favor of you diverting your marketing efforts towards the Pinterest platform, let's cover some fundamental aspects which may be essential for ensuring a successful marketing campaign on Pinterest.
How do I Start a Pinterest Business Account?
Start with a Business Profile
Like any other social media platform, the first step towards making a strong presence is to have a solid profile.
So, start your Pinterest journey by creating a business account (As opposed to regular account) in order to have better access to rich pins, analytics, and other useful tools.
Make sure to cover all the basics of creating a good business profile. For example, a professional profile photo, well-crafted bio, right choice of cover board, carefully chosen showcase boards and, lastly, verified website.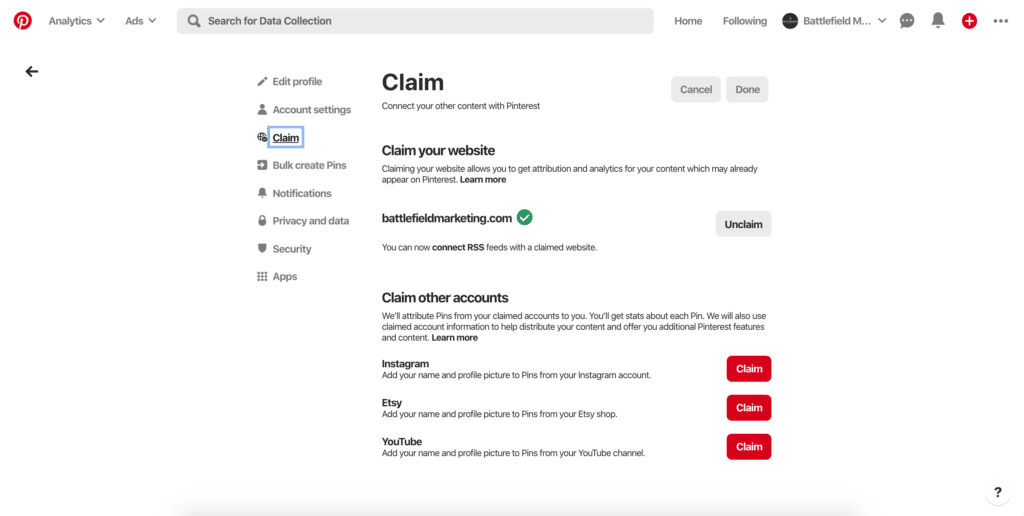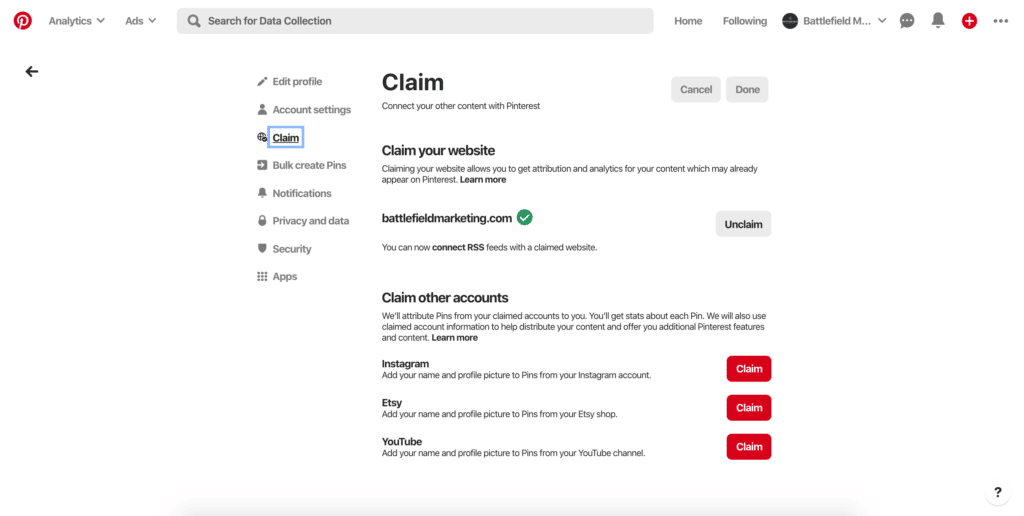 Don't be in a hurry or too excited so that you miss important things at this crucial point. Take all the time you need in order to come up with the perfect Pinterest Business Account.
At this starting point, it is recommended to gain a brief understanding of Pinterest Terms of Services, as these differ for business accounts.
Define Marketing Goals
It is never a good idea to start a marketing effort without having any idea about your future goals, objectives, directions or aspirations.
Don't post anything and everything related to your product or service, with the intention of solely improving social media presence.
Instead, define a clear set of goals, break them into objectives and make sure to have all efforts around these goals and objectives.
Do some research and brainstorm to choose from a number of broader marketing goals.
For example, do you have to generate business leads for specific products, promote your brand name, find investors for your startup or sell your services?
Pinterest can be an amazing platform for all sorts of marketing goals. But success is possible only if your efforts and resources are spent in the right direction, as per your business needs.
Create a Thorough Content Strategy
Even though it is only photos and graphics, you still need to decide the kind of content you want to share on Pinterest.
As the starting step, align it with your marketing goals and go further into depth to pinpoint the precise kind of content you need to create and share in order to achieve your marketing goals.
With Pinterest, you can have a wide range of strategies related to content creation.
For example, you may want to create Product Pins to let viewers discover new products you have at your store. This is especially useful for online stores or retailers.
Similarly, you may simply want to create blog post graphics in order to promote blog posts and other content on your website.
Another way to post on Pinterest is to create infographics that highlight important information or data related to your product, organization or industry.
Be Creative with Content
There are hundreds of billions of photos and graphics all over the internet. An essential feature of all those who stood out is that they were creative, unique and represented a certain idea.
You must consider this when creating your content for Pinterest. You may not be a professional graphic designer (and you don't have to hire one either) but you must keep in mind that any lazy and badly created graphic will never be able to deliver the message you hope to deliver.
Spend some time in the process of creating photos and/or graphics in order to make sure they are properly designed for the intended audience.
For starters, follow the basic rules of graphics creation; such as, choose the right colors, don't add too much text in graphics, know the right dimensions and keep the audience in mind when working on your design layout.
Don't Ignore the SEO
As mentioned earlier, Pinterest should be seen as a visual search engine. But this also means that it must have a certain algorithm that works according to certain SEO rules.
So, in order to achieve maximum success, it is pertinent to have a fundamental understanding of how the Pinterest algorithm works and how you can use it to your advantage.
As you might already be aware, SEO is a long topic and there may be too many things to consider. But, luckily, it is possible to achieve desired results by focusing on the basics; such as well-crafted business profile, pins and boards having appropriate keywords, title and description.
Community Boards
Pinterest allow its users to create new or join existing community boards. This provides a very good opportunity to get a new but relevant audience for your content.
Simply look for famous pinners related to your industry and see if they have relevant group boards.
You may also create your own board.
Remember that once you are in the right community board, don't use it to only spam your content. Instead, try to create a healthy atmosphere and relation with other pinners in order to have a longer-lasting opportunity to promote your content.
Summary
Pinterest has many similarities to other social media networks, yet, it has some very unique qualities as well.
Think of Pinterest as more than just a social sharing platform. It is also one of the largest search engines on the web.
With more than 700 million users and 500,000 brands on Pinterest, it's well worth a look for your digital marketing strategy.
Plus, when it comes to social sharing, pins are just as shareable if not more than posts on Facebook or tweets on Twitter. They also have a longer shelf life. 
Do your research. Make sure your audience is on Pinterest and what you have to share is of value. If so, then you're ready to drive more traffic to your website and harness the power of Pinterest for your business.